Between 22 and 28 November 6 cases of violation of freedom of speech were registered in the category «Physical aggression», and one case in the categories «Censorship. Access to public information» and «Internet pressure».
Category «Physical aggression»
In Kryvyi Rih «Municipal guards» didn't let the journalists enter a city council to attend a municipal executive committee session. When a clash near the building started, police officers pushed a journalist into the crowd.
During the committee session on competitive bidding Volodymyr Shulga, a deputy director of Housing and public utilities department of Mykolaiv city council, tried to force Andriy Lokhmatov, a correspondent of online media outlet «Prestupnosti net», out of the room where the session took place saying that the journalists were not invited.
In the village of Kryzhanivka, Odesa oblast, Serhiy Kolodiazhnyi, a journalist of the TV company «Krug», was sent away from the session of the local village council. Nataliya Krupitsa, a head of village council, put the question about closed session and journalist's leaving the room to vote.
In Chernivtsi the unidentified got into the editorial office of newspaper «Chas» twice and stole a laptop which belonged to its editor-in-chief Petro Kobevko.
Vasyl Salyza, a correspondent of the media outlet «Molodyi bukovynets», was threatened to get his camera smashed when he was trying to take a picture of the car the child was hit by.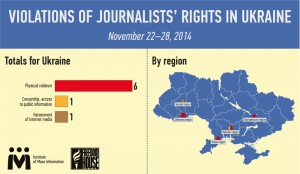 Category «Censorship. Access to public information»
Andriy Lokhmatov, a correspondent of the online media outlet «Prestupnosti.NET», received a denial at the General Prosecution Office of Ukraine to get information about the officials, who take part in Anti-Terrorist Operation in the East of Ukraine as part of «battalion of prosecutors» earlier announced by the Prosecutor General Vitaliy Yarema.
Category «Internet pressure»
Russian hackers hacked the website of Ternopil online media outlet «Doba» and completely blocked access to it for the outlet's team. The journalists think it happened due to anti-Russian publications.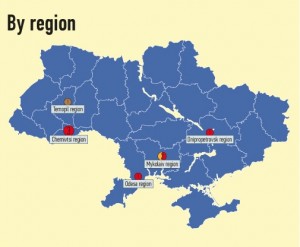 For more information, please visit www.imi.org.ua and www.freedomhouse.org/ukraine-media-watch.
This report was prepared under the Media Watch Network project that IMI runs with Freedom House and the support of the Norwegian Ministry of Foreign Affairs.